Young Living
AlkaLime
Retail: $47.04 USD
Wholesale: $35.75 USD
Stock Number: #3199
AlkaLime
AlkaLime® is a precisely-balanced alkaline mineral complex formulated to neutralize acidity and maintain desirable pH levels in the body. Infused with lemon and lime essential oils and organic whole lemon powder, AlkaLime also features enhanced effervescence and biochemic cell salts for increased effectiveness. A balanced pH is thought to play an important role in maintaining overall health and vigor.
How to Use
Add one level teaspoon into 4–6 ounces of distilled water, mix thoroughly, and drink immediately. Mix only with water. Take 1–3 times daily, one hour before meals or retiring to bed as an aid in alkalizing.
Ingredients

Click the image below to enlarge.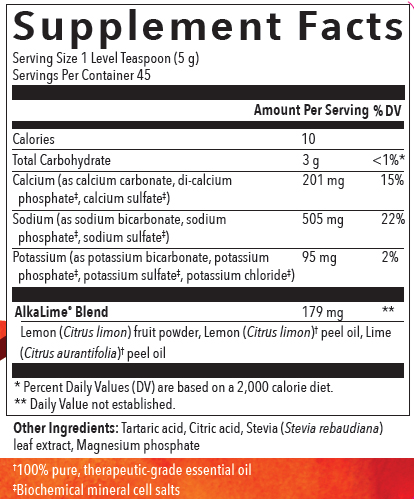 †Young Living Therapeutic Grade™ essential oil
Young Living July Promotion!
Cautions & Disclaimer
*These statements have not been evaluated by the Food and Drug Administration. Young Living products are not intended to diagnose, treat, cure, or prevent any disease.

*Keep out of reach of children. If pregnant, nursing, taking medication, or have a medical condition, consult a healthcare practitioner prior to use.

*Modern scientific research has not yet validated these traditional claims.
Get Your Questions Answered!
I'm here to help! Ask me anything via the form below, and I'll get back in touch as soon as possible.
YL #1464781