Product Notes
Helps the Body Maintain its Natural Balance and Harmony
Supports the Glandular Systems of Women
Young Living
Cortistop Women's
Retail: $72.04 USD
Wholesale: $54.75 USD
Stock Number: #3275
CortiStop Women's Capsules
CortiStop® Women's is a proprietary dietary supplement designed to help the body maintain its natural balance and harmony.* When under stress, the body produces cortisol. When cortisol is produced too frequently, it can have negative health consequences such as feelings of fatigue, difficulty maintaining healthy weight, and difficulty maintaining optimal health of cardiovascular systems. CortiStop supports the glandular systems of women.*
How to Use
Take 2 capsule in the morning before breakfast. If desired, for extra benefits, take another two capsule before retiring. Use daily for 8 weeks. Discontinue use for 2-4 weeks before once more resuming.
Keep in a cool dry place. Keep out of reach of children. For adult use only. If pregnant or under a doctor's care, consult your physician.
Ingredients

Click the image below to enlarge.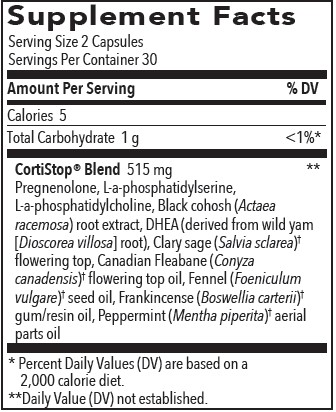 Young Living Therapeutic Grade™ essential oils
Young Living July Promotion!
Cautions & Disclaimer
*These statements have not been evaluated by the Food and Drug Administration. Young Living products are not intended to diagnose, treat, cure, or prevent any disease.

*Keep out of reach of children. If pregnant, nursing, taking medication, or have a medical condition, consult a healthcare practitioner prior to use.

*Modern scientific research has not yet validated these traditional claims.
Get Your Questions Answered!
I'm here to help! Ask me anything via the form below, and I'll get back in touch as soon as possible.
YL #1464781