Young Living
Detoxzyme Capsules
Retail: $54.93 USD
Wholesale: $41.75 USD
Stock Number: #3203
Detoxzyme Capsules
Detoxzyme®combines a myriad of powerful enzymes that complete digestion, help detoxify, and promote cleansing.* The ingredients in Detoxzyme also work with the body to support normal function of the digestive system, which is essential for maintaining and building health.*
How to Use
Take 2 capsules three times daily between meals or as needed. This product may be used in conjunction with a cleansing or detoxifying program. For the relief of occasional symptoms such as fullness, pressure, bloating, gas, pain, and/or minor cramping that may occur after eating.
Warning: Do not give this product to children under 12 years of age except under the supervision of a doctor. If symptoms persist, discontinue use of this product and consult your physician.
Keep in a cool dry place. Do not expose to excessive heat or direct sunlight. If pregnant or under a doctor's care, consult your physician.
Ingredients

Click the image below to enlarge.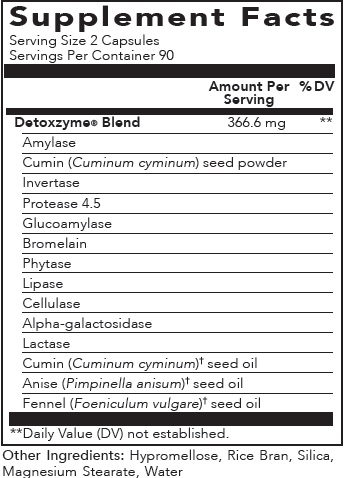 †Young Living Therapeutic Grade™ essential oil
Young Living December Promotion!
Cautions & Disclaimer
*These statements have not been evaluated by the Food and Drug Administration. Young Living products are not intended to diagnose, treat, cure, or prevent any disease.

*Keep out of reach of children. If pregnant, nursing, taking medication, or have a medical condition, consult a healthcare practitioner prior to use.

*Modern scientific research has not yet validated these traditional claims.
Get Your Questions Answered!
I'm here to help! Ask me anything via the form below, and I'll get back in touch as soon as possible.
YL #1464781